NorthSpring Capital Partners is a private equity firm that enables business managers and management teams to purchase the company they presently manage or another business in a similar industry. These transactions are commonly referred to as Management Buyouts ("MBO") and Management Buy-Ins ("MBI"). Our subordinated debt and minority equity investments, which range from $250,000 to $1,000,000* supplement the equity provided by management. Our preferred exit strategy is to sell our shares back to management within a five year period so that the management team has the opportunity to wholly own the company.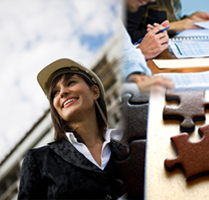 Our target market and investment criteria are:
Companies involved in manufacturing, processing, wholesale and distribution industries.
Location within a 200 km radius of Cambridge, Ontario.
The business must be profitable or cash flow positive.
Management must be willing to invest.
Management must possess relevant senior management and industry experience and knowledge.
NorthSpring Capital Partners helps management teams through each step of the process ensuring that the right price is paid for the right business with the right financial structure. The following pages will help you determine whether on not an MBO/MBI is right for you and guide you through the process. We believe that, "if you can run it, you can own it".
* We can do arrange amounts (greater than $1 million) through our syndicate relationships.