Management Buy-Ins (MBI) are different than MBOs in that an outside manager or management team raises the necessary funds to buy an existing business and then becomes the new management team. Typically the manager(s) involved in an MBI will already possess years of experience in the existing business' industry. MBIs have become increasingly popular over the past few years, driven by the number of available senior executives with cash to invest and a strong desire to lead their own entrepreneurial venture.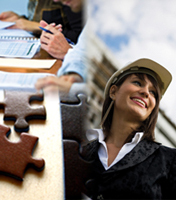 What do you need to be Successful?
Relevant experience at the senior management level
Relevant experience in the industry sector
Excellent communications, presentation and negotiation skills
Some capital to invest
A proven ability to increase profitability
MBIs can have a very positive impact, especially on businesses that are underperforming due to weak management. The key is matching up the right management team to the right business. At NorthSpring Capital Partners, we come across many MBI opportunities and we would be pleased to hear from experienced business managers with a proven track record seeking such opportunities.